Copenhagen is a well-known city in Denmark. However, there are a lot of other interesting cities to visit in Denmark. And because Denmark is a small country, it is very easy to visit a lot of them during just a couple of days. There is a lot of interesting things you can so in them. For example, Denmark has great museums about Vikings. But there is also a lot of modern architecture going on and with its museums of modern art as well. As an expat in Denmark, this is a list of 7 cities that everyone should visit, especially if you want to see something else then Copenhagen.
Cities to visit in Denmark
Aarhus
Aarhus is the second biggest city in Denmark. Except for the historical buildings, have original museum ARoS, which is a museum of modern art. For the history buffs, I certainly recommend the old city, where you can see the old buildings exactly how they used to be and what people used to do there. As a museum, it serves its purpose. You can get to see how people used to live through two centuries with all the craftsmanship around it. Besides that, all the buildings are very nicely preserved.
This city is not just about old architecture. There is a lot of modern buildings. The ARoS museum is one of them, but you can find even more of them in the city center, where you can see a very modern library and offices.
Spending a day in Aarhus
A perfect day in Aarhus can look like this: Visit ARoS museum or The old city (Gamle by). If you have more than one day in Aarhus, you can maybe do both and leave the rest for the second day. After that, find a place to eat. If you are a budget traveler I would recommend going to the street food factory in Aarhus. You can find there all kinds of different food from a lot of different countries. After lunch, feel free to explore the city center. In Aarhus city center you can find both old architectures but also brand new buildings with interesting shapes.
If you are looking for more nature in Aarhus, there is always a beach. And not just a beach – this one has something called infinity bridge. Which is a ring that you can walk around on the shore. It is surrounded by beautiful nature and it is a nice place for getting some rest. Very close by there is a deer petting zoo, where you can feed deers. Basically, the deers will be able to walk around you freely. It is not dangerous at all and it might be something for families with kids.
One extra tip for museums: if you are all gender rights/feminist type, go to women museum. There are usually interesting exhibitions to visit regarding women's rights and so on.
Aalborg
Aalborg is a big industrial city with a weak spot for music. When walking around, you are about to see a lot of factories. And educational institutions somewhere close to them. Aalborg also has one of the best music conservatories in Denmark. What does it mean for you? Well, there is a party street where you can find live music every single day. In a lot of these bars are students playing different songs, sometimes even their own. The street is called Jomfru Ane gade and there is plenty of pubs, restaurants, and cafés for everyone. Go on and try!
But Aalborg is not just a musical city for its party street. There is something called the park of music. Meaning that there is a lot of trees with weirdly looking buttons on a platform around them. If you press a button next to a tree, it will start to play music. The artist and song are written on the box, so there isn't any surprise on what will you hear. But you can hear various singers from Beethoven to Michael Jackson.
And finally here is something for anyone excited about Vikings or history itself. In Aalborg, there is a place called Lindholm Hoje Museum. The monument that you can find there was a burial place, with findings from the iron age to late Viking age. In the museum itself, you can find a lot of things about iron age and Vikings. It is mainly about danish Vikings and their life around Limfjord (Limfjord is the name of the fjord, where Aalborg is).
Extra tip: If you visit Aalborg at the end of May, there is a huge carnival, that goes all around the city. Big fun, but plan your visit.
Odense
Do you remember the scary and sad versions of fairy tales like the Little Mermaid or the Snow Queen? Or the most depressing story about a girl with matches? That all comes from Odense. H. C. Andersen lived here for most of his life. In fact, all around the city, you can find tracks that suggest where he was going. The place where he was born, a place where he studied, museums and so on. So here it is possible to visit both his house and museum where you get to know a little bit more about where he lived, how he traveled, what he did, about his relationships and inspirations. Generally, if you like H. C Andersen, Odense is one of the cities in Denmark to visit. You will also see different statues of his characters and all about him.
Activities with kids in Odense
However, Odense is not just about H. C Andersen, although it is a big part of the city. From the museum part of the view, you can also see here the Danish railway museum. Something that might be of interest to any train enthusiast. The railway museum has trains and carriages that were used in Denmark since 1860. The museum is very kid-friendly as well.
For something, even more, kid-friendly, you can always visit Odense Zoo. They have a lot of different animals, petting zoo as well, so kids are allowed to feed horses, pigs, rabbits, guinea pigs and more. Moreover, there is a red panda and a lot of activities for kids. If you are watching the news, this zoo was widely known in 2014, because they killed a giraffe right in front of kids. If you remember that – don't worry, they don't do it anymore. They get a massive backlash for it.
It is extra nice if you come here in the middle of summer, where there is a flower festival, which is a place where you can see statues from flowers or just buy some flora for your home.
Esbjerg
Esbjerg is a city that is mostly known for wind energy and fishing industry. So if you are looking for eating delicious fish, don't look too far. But there is another thing that you might want to know about this city. Esbjerg is also a place where Viggo Mortensen was born. Yes, Aragorn is half Danish. However, there are no signs of him what so ever.
What you can notice here though is a museum of fishing and maritime. It is a pretty big museum where you get to know everything about the history of fishing in Denmark. From Viking times up till now. And not just that, you will also get to know more about how the sea is used now in Denmark. So a lot of information about wind energy as well. The museum is very kid-friendly, you can see here several kids attractions, it is even possible to observe some of the fishes. And for kids, there are some fishes that they can touch and it is safe both for the fishes and for the kids.
A lot of people are coming to see the dominant of the city which is the big statue on the shore. The statue is called Men at the sea and it is there as a thank you for all the people who are working on the sea and those who lost their lives there.
There is also quite a beautiful city center, with old towers, shopping streets, and churches. But it gets more interesting in summer, where there is a boat race. Boats are usually historical, so it is quite an event to see this.
Kolding
Kolding is a small but interesting town. First of all, it has quite a big castle, called Koldinghus, that is possible to visit. The castle itself has a lot of exhibitions, so you can see here a lot of things from Queens jewerly to modern art. It is also possible to go to the tower and enjoy the view over Kolding fjord and its surroundings.
Except for the castle and historic center, you can find here also a museum with Danish designers such as Arne Jacobsen. The museum is called Traphold and regularly there are exhibitions of modern furniture, which is something that Denmark is very proud of. In general, you can find here all kinds of modern art. The museum itself is in the Kolding fjord, surrounded by beautiful nature and expensive villas.
If you are looking for the new architecture to see, there is a university in South Denmark. Very interesting building with colorful windows. At some point it got so famous they even hosted a debate with Barrack Obama.
Another great tip for Kolding is to come to the local English pub. Sure, you might think that all the English pubs are the same. But this one is different especially because there are about 300 different beers and 200 kinds of whiskeys. All of this in the pub that is well known around Denmark, so there is a lot of live music as well.
Vejle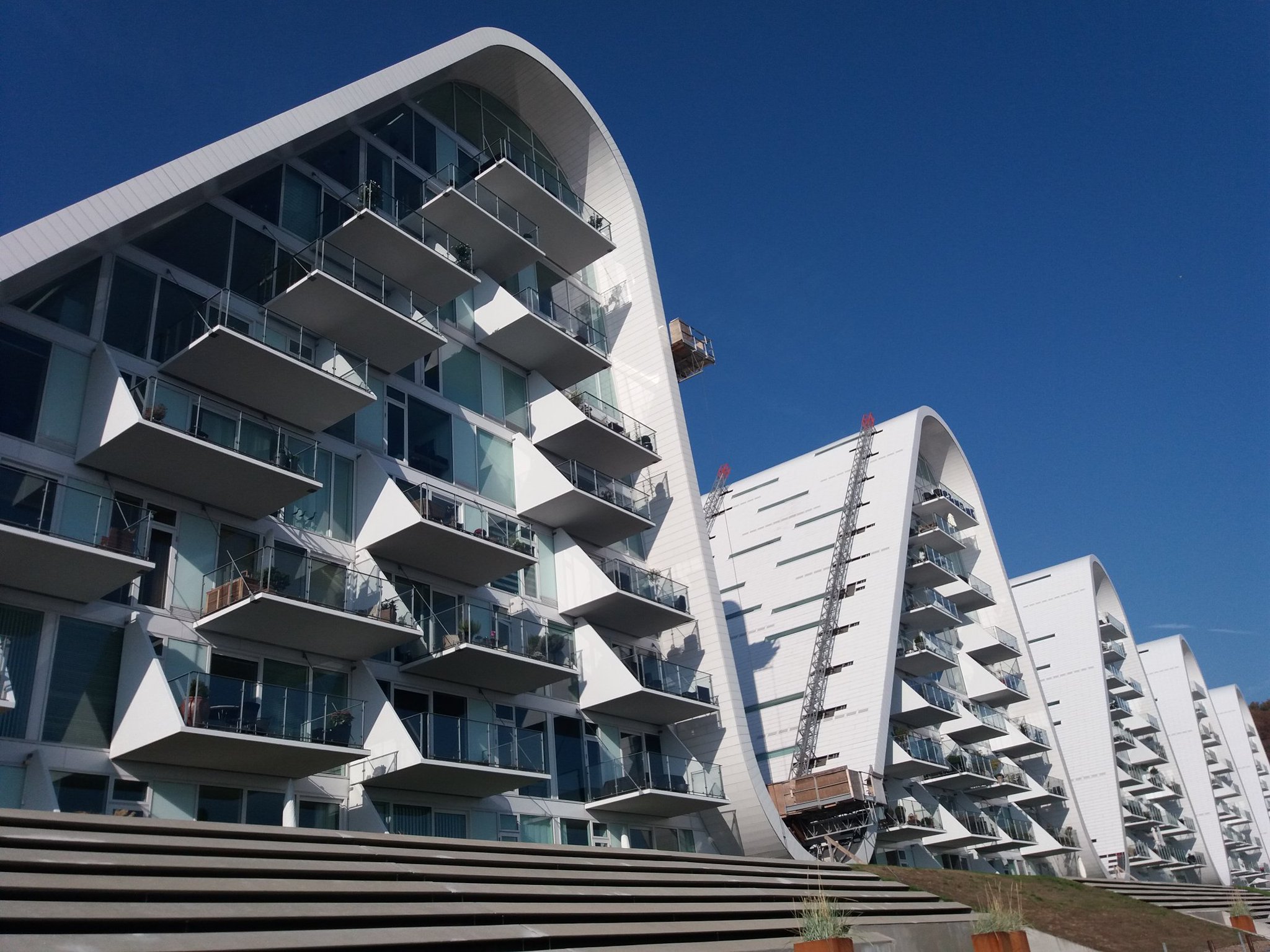 Unlike rather historical Kolding, Vejle is a town that is trying to put a spotlight on its modern architecture and if you are here for architecture, Vejle should be one of the cities to visit in Denmark. Except for the Wave flats on the picture (where people live), there is a brand new harbor, and right next to it, you can find a quite amazing building that is a design studio.
And it is right here in the harbor, where you can know more about this modern neighborhood, how it was build and how was it designed. The neighborhood is brand new with a lot of electric cars driving around and generally, maybe it is not the main reason for visiting this city in Denmark, but it is interesting to see a different approach to living.
Surprise for the animal lovers: Here is also a very famous deer petting zoo, where you can go to a forest in the middle of the town and watch deer freely running around you. Feeding is no longer allowed but you'll get an experience of fearless deers that will run around you just like any other pet you have a home. The local petting zoo has also an awesome view of Vejle fjord.
Ribe
Ribe is different than other cities in Denmark as it is the oldest town in northern Europe. Even though there are not that many tourist attractions, the afternoon around the oldest cathedral in Denmark and one of the first churches at Viking territory is quite interesting to visit.
Let's start with the local cathedral. Because of its existence, Ribe was declared as one of the oldest cities in Northern Europe and perhaps one of the most interesting cities to visit in Denmark. The cathedral was built in 1150, which makes it one of the oldest cathedral in Scandinavia. And certainly in Denmark. Perhaps because of it, Ribe once was the capital of Denmark, before the king decided to move to Copenhagen. Cathedral lost its paining during the fire in the 18th century, so locals decided to remake it into modern paintings. And a lot of these paintings that you will see there are from children. The cathedral also has two towers. One of them is possible to reach. From that point, you will get to see an amazing view. Denmark is pretty flat, so you can see very far if the weather conditions allow it.
Another attraction in Ribe is a local Viking museum with a lot of ancient tools that Vikings used to use. That said, you will get to know here a lot about how they lived, what was important for them, all about their fishing and fighting technique.
Other than that, Ribe has an amazing city center, with authentic crooked houses and a lot of pubs around. But perhaps the most original place here is a place called Temper Chocolade. In this coffee shop, you get to taste homemade chocolate in all kinds of shapes and flavors that you can think of.
Like the post? Pin it!