7 cities to visit in Denmark that are not Copenhagen
7 cities to visit in Denmark that are not Copenhagen
Copenhagen is a well-known city in Denmark. However, there are a lot of other interesting cities in Denmark to see whether you are an urban lover or history buff.
Cities in Denmark
Aarhus
Aarhus is the second biggest city in Denmark. Except for the historical buildings, have original museum ARoS, which is a museum of modern art. For the history buffs, I certainly recommend the old city, which places where you can see the old buildings exactly how they used to be and what people used to do there. Personally, I wouldn't go there because there is a lot of other places with well-preserved houses in other parts of Denmark, but if you don't have time to go there, this would be your chance to see 17th century all over again.
A perfect day in Aarhus can look like this: Visit ARoS museum, after that, find a place to eat somewhere close to very modern docks, continue to walk to the beach towards the deer petting zoo (very Danish, no kidding!). On your way there, you are about to meet the infinity bridge, which is just a nice stop. After that, you can catch a bus back to downtown.
One extra tip: if you are all gender rights/feminist type, go to women museum. There are usually interesting exhibitions to visit regarding women rights and so on.
Aalborg
Aalborg is a big industrial city with a weak spot for music. When walking around, you are about to see a lot of factories. And educational institutions somewhere close to them. Aalborg also has one of the best music conservatories in Denmark. What does it mean for you? Well, there is a party street where you can find live music every single day. Go on and try!
Another way how to know that there is a place for music is this park of music. If you press a button next to the tree, it will start to play music. The artist and song are written on the box, so no surprises. But you can hear various singers from Beethoven to Michael Jackson.
Extra tip: If you visit Aalborg at the end of May, there is a huge carnival, that goes all around the city. Big fun, but plan your visit ahead.
Odense
Do you remember the scary and sad versions of fairy tales like the Little Mermaid or the Snow Queen? Or the most depressing story about a girl with matches? Yep, that all comes from Odense. H. C. Andersen lived here most of his life. In fact, all around the city, you can find tracks that suggest where he was going. The place where he was born, a place where he studied, museum and so on.
It is extra nice if you come here in the middle of summer, where there is a flower festival, which is a place where you can see statues from flowers or just buy some flora for your home.
Esbjerg
Esbjerg is a city of another famous name. Viggo Mortensen. Yes, Aragorn is Danish. However, there are no signs of him what so ever. But since Esbjerg is rich in fishing, you can find here a museum of fishermen. That is very close to the statues on the pictures.
There is also quite a beautiful city center, with old towers, shopping street, and churches. But it gets more interesting in summer, where there is a boat race. Boats are usually historical, so it is quite an event to see this.
Kolding
Kolding is a small but interesting town. Except for the castle and historic center, you can find here also a museum with Danish designers such as Arne Jacobsen. Other than that it is just an interesting place to hang around, whether you decide to go around the Kolding fjord for a walk or to the forest that is in the middle of the city. For urban architecture lovers, there is also a new neighborhood just with the newest building from classic Danish architects.
Vejle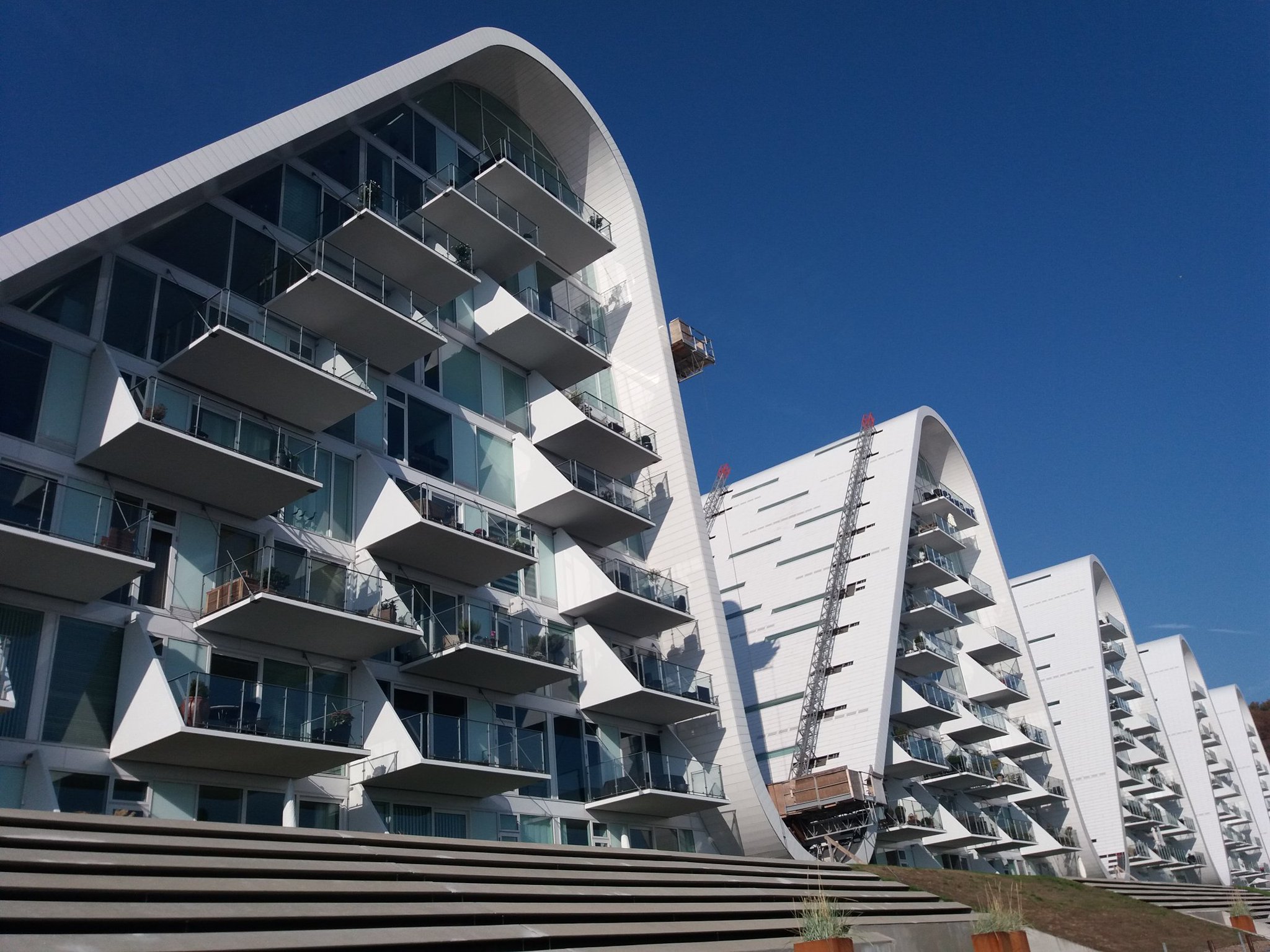 Unlike rather historical Kolding, Vejle is a town that is trying to put a spotlight on its modern architecture and if you are here for architecture, Vejle should be among cities in Denmark to visit. Except for the Wave flats on the picture (where people actually lives), there is a brand new harbor, and right next to it, you can find a quite amazing building that is apparently a designer studio.
Surprise for the animal lovers: Here is also a very famous deer petting zoo, where you can go to a forest in the middle of the town and watch deer freely running around you. Feeding is no longer allowed but you'll get an experience of fearless deers that will run around you just like any other pet you have a home.
Ribe
Ribe is different than other cities in Denmark as it is the oldest town in northern Europe. Even though there are not that many tourist attractions, afternoon around the oldest cathedral in Denmark and one of the first churches at Viking territory is quite interesting to visit. You can visit the Viking museum, the cathedral where on the top, you can see how flat Denmark actually is. And if nothing else, you can go around the town that still has more historic places than the new ones. The crooked colorful houses are quite charming.
Follow Ginger Around The Globe
Please follow and like us: